TrickSack is durable, easy to use, and holds a lot! Use it for storing - and playing with - virtually any kind of toy. Kids will enjoy putting their toys away, and you'll enjoy not stepping on them.
Available in two sizes - the 3' TrickSack, and the 5' TrickSack XL - there's a TrickSack to hold everything you need.
TrickSack
TrickSack XL
Diameter

3'
(91cm)

5'
(150cm)

Capacity (open)

5 gallons
(19 liters)

17 gallons
(64 liters)

Capacity (tied shut)

3.5 gallons
(13 liters)

12 gallons
(45 liters)

Price (MSRP)

$29.99

$49.99
Capacities are approximate; your experience may vary.
We use only top-quality materials to produce our playmats, and manufacture them with great care.
Durable, top-notch 10oz indigo denim. Strong enough to take abuse, and live to serve another day. Washable; on cold, tumble dry low. Turn the bag inside-out and tie securely before putting in the washer. Wash lighter colors separately.
Sturdy nickel hardware embedded with precision. Coupled with a super-strong braided drawstring, makes for a fast, smooth closing action - instant cleanup!
Plentiful capacity! The 3' diameter, TrickSack holds as much as nineteen liters of LEGO® bricks, or other favorite toys. That's almost enough to fill a 5-gallon bucket! The 5' TrickSack XL holds three times more.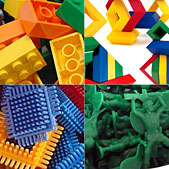 Versatile. Use to store LEGO® Bricks, Lincoln Logs, Erector Sets, K'Nex, Dado Cubes, Wedgits, Reptangles, Stickle Bricks, Nano Blocks... And they don't need to be construction toys; TrickSack can hold Playmobil, marbles, toy cars, figurines.